Jurnalistik Dan Minat Mahasisiwa (Studi Pengaruh Mata Kuliah Jurnalistik Terhadap Minat Mahasiswa KPI IAIDA Blokagung Banyuwangi Menjadi Jurnalis)
Abdi Fauji Hadiono

Institut Agama Islam Darussalam (IAIDA) Banyuwangi
Abstract
This research is focused to analyze the influence of journalism subjects on student interest of IAIDA KPI Blokagung Banyuwangi become Journalist. With the population as well as samples of students of IAIDA KPI Blokagung Banywangi force of 2014 which amounted to 20 students. The type of quantitative research that uses the ethical approach, in the sense that researchers collect data by first establishing the concept as the related variables derived from existing theory chosen by the researcher. Only from predetermined indicators are made questionnaires answer options and scores. In this research, the data collection by spreading the questionnaires to the IAIDA KPI IAIDA Blokagung Banyuwangi class of 2014. After analyzing the data collected, the researcher found that there is influence between journalistic subjects (X) on the interest of IAIDA KPI student BLokagung Banyuwangi become a journalist by using correlation test Pearson Product Moment is quite strong. The conclusion is: "There is a significant influence between Journalism Subjects to Student Interest KPI IAIDA Blokagung Banyuwangi become Journalist
Downloads
Download data is not yet available.
References
Assegaf, Dja'far. 1991. Jurnalistik Masa Kini. Jakarta: Ghalia Indonesia.
Budyatna, M.A., Prof. Dr. Muhammad. 2014. Jurnalistik Teori dan Praktik. Bandung: PT. Remaja Rosdakarya.
Creswell, J. W. 2002. Educational Research: Planning, Conducing, and Evaluating Quantitative and QualitativebResearch. Upper Research, N. J: Merrill.
Fathoni, Prof, DR. H. Abdurrahmat, M.Si,. 2006. Metodologi Penelitian & Teknik Penyusunan Skripsi. Jakarta: Rineka Cipta.
Gunadi, YS. 1998. Himpunan Istilah Komunikasi. Jakarta: Grassindo.
Mardalis, Drs. 2007. Metode Penelitian: Suatu Pendekatan Proposal. Jakarta: Bumi Aksara.
Mc Quail, Dennis. 1987. Teori Komunikasi Massa: Suatu Pengantar. Jakarta: Erlangga.
Riduwan, Drs, M.B.A. 2015. Pengantar Statistika. Bandung: Alfabeta.
SK, Patmono. 1990. Teknik Jurnalistik: Tuntutan Praktis untuk Jadi Wartawan. Jakarta: BPK Gunung.
Sugiyono. 2009. MetodePenelitian Administrasi, Bandung: Alfabeta.
-------. 2006. Statistika untuk Penelitian, Bandung: Alfabeta.
Suharsimi, Arikunto Prof. Dr. 2010. Prosedur Penelitian, Yogyakarta: Rineka.
Sutrisno, Hadi. 2004. Metodologi Research. Yogyakara: Andi Offset.
Tim Penyusun Buku Kurikulum Tingkat Satuan Pendidikan Tinggi. 2009. Kurikulum Tingkat Satuan Pendidikan Tinggi. Surabaya: Kopertais IV Press.
Tim Penyusun Buku Pedoman Akademik IAIDA. 2016. Buku Pedoman Akademik program sarjana strata satu (S.1) . Banyuwangi: Lembaga IAIDA.
Uchjana Effendy., M.A., Onong. 2003. Ilmu, Teori dan Filsafat Komunikasi. Bandung: PT. Citra Aditya Bakti.
Winkel W.S. 1986. Psikologi Pendidikan dan Evaluasi Belajar. Jakarta: PT. Gramedia.
Dokumen Prodi KPI IAIDA
http://www.gurupendidikan.com/pengertian-mahasiswa-menurut-para-ahli-beserta-peran-dan-fungsinya diakses pada 25 Mei 2017
http://www.jobdescriptionsample.org/id/2016/06/28/broadcast-news-analysts-job-description-accountability-sample-and-jobs. Di akses pada tanggal 29 Juni 2017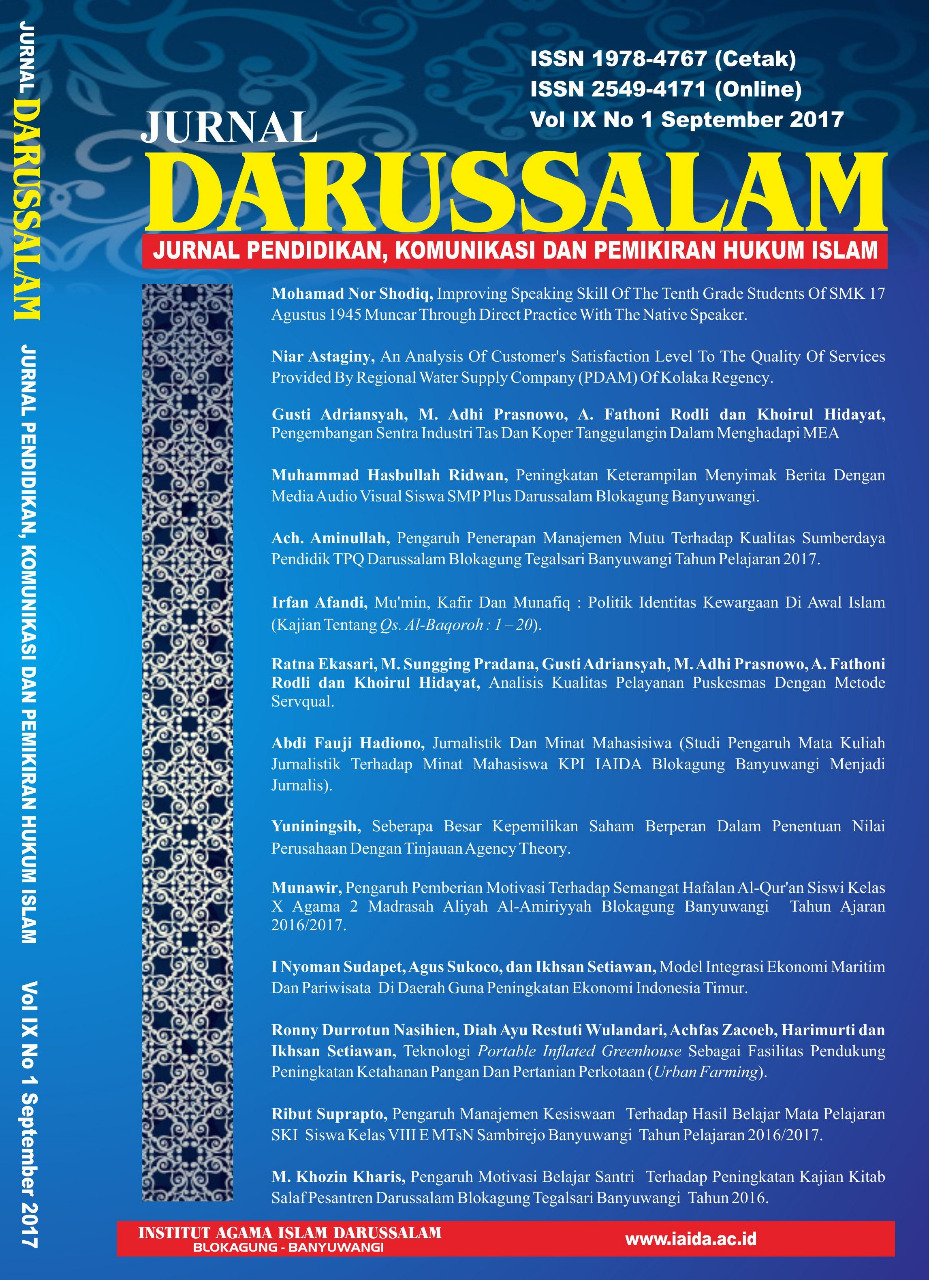 This work is licensed under a Creative Commons Attribution-ShareAlike 4.0 International License.
Semua artikel yang dipublikasikan dapat diakses secara umum melalui online dan bersifat bebas download
http://creativecommons.org/licenses/by-sa/4.0/