Peningkatan Keterampilan Menyimak Berita Dengan Media Audio Visual Siswa SMP Plus Darussalam Blokagung Banyuwangi
Muhammad Hasbullah Ridwan

Institut Agama Islam Darussalam (IAIDA) Banyuwangi
Abstract
This study was designed using the method of action research (action research). The research objective of this class action to overcome the problem of the ability of listening skills. Because the real conditions that occur in class VIII SMP Plus Darussalam are still lacking, because during this time the learning activities are still many teachers who are reluctant to use the media. Media used are media Audio Visual techniques of group work. The research process begins with the initial observation and two cycles. The effectiveness of the actions in each cycle is measured from the observation and assessment activities in two ways, namely product assessment and appraisal process. Meanwhile, the data of listening skills through audiovisual media methods of group work techniques is analyzed by describing the average value of per cycle so the results can reach the learning target of 75%. The average yield on the class of initial observations is 71.6% and the results of the first cycle the average ability listening is 75.125%, while in the second cycle is 87.50%. Based on the results of 1 and 2 of the decision can be taken, namely: 1.kemampuan listening through audiovisual media techniques of group work in class VIII SMP Plus Darussalam Blokagung Tegalsari fairly good Banyuwangi, 2. The use of audio-visual media in improving listening skills was quite successful.
Downloads
Download data is not yet available.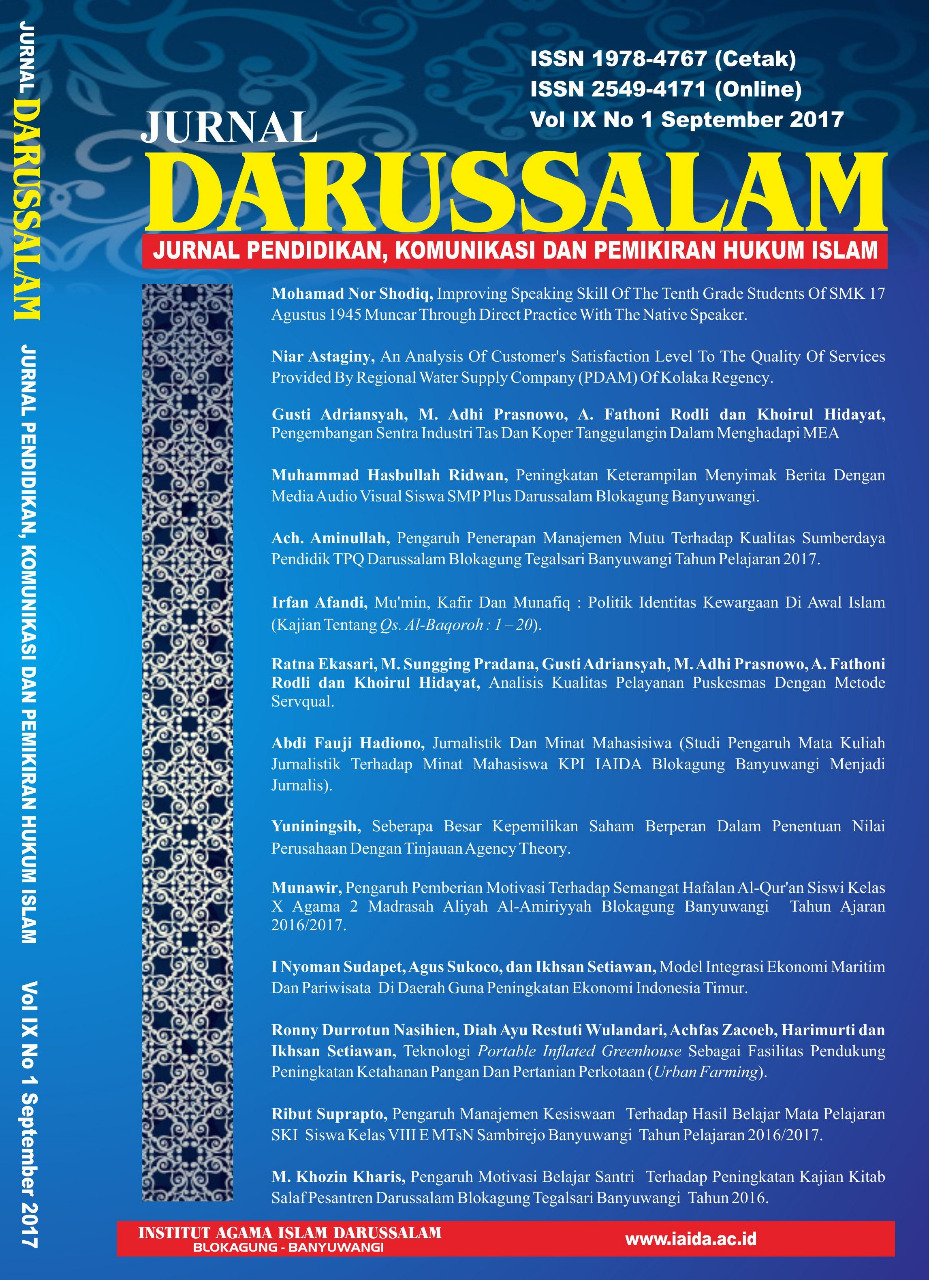 This work is licensed under a Creative Commons Attribution-ShareAlike 4.0 International License.
Semua artikel yang dipublikasikan dapat diakses secara umum melalui online dan bersifat bebas download
http://creativecommons.org/licenses/by-sa/4.0/